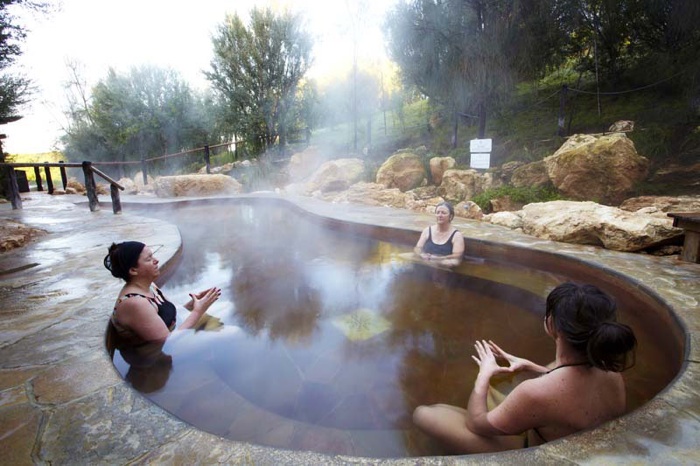 Peninsula Hot Springs is only an easy eight minute drive from Plantation House.
Entering the bathing area is like stepping into another world, a sanctuary where the mind and body are calmed by the steam, the sound of running water and the casual banter of bathers. It's a place where time is forgotten.
BathingPeninsula Hot Springs is the first natural hot springs and day spa centre in Victoria, just 90 minutes from Melbourne. Natural thermal mineral waters flow into the pools and private baths providing the idyllic setting for relaxation and rejuvenation. Peninsula Hot Springs makes it possible to bathe in the naturally healing waters of mineral rich thermal pools.
Two facilities provide a relaxation experience for everyone:
The Bath House has over 20 bathing experiences on offer with areas suitable for visitors of all ages including a Hill Top pool (right) with 360 deg views, reflexology walk, Turkish steam room, sauna, cave pool, family bathing area, 16 years+ bathing area and many more. A kiosk offers lunches and light morning and afternoon snacks. Open from 7:30 am till 10 pm daily. View prices here
If you are planning to visit during a peak period (weekends, school and public holidays) plan ahead and make an on-line booking for your bathing access to the Bath House to avoid a possible wait. Click here to Book Bathing Online.
TripAdvisor certificate of excellence